Social Co-Ed Flag Football - Venice Flag Football · Co-Ed Social
MonTueWedThuFri
Sat
Sun
between 12:00am and 5:00pm
8 vs. 8 Coed
Team Fees

Regular

$99.99

per player + $2.50 Processing Fee
Free Agent Fees

Regular

$99.99

+ $2.50 Processing Fee
When:
Where: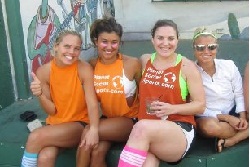 PenMar Recreation Center

Format: Games are 7 vs. 7. You must have at least 5 males and 2 females on the field at once. Games last approximately 1 hour. 2 20 minute halfs.

There are usually 2 sets of filelds going for this league. Games start at noon
For a full set of rules click HERE

How and how much?
Each team will need at least 14 players with a minimum of 8 females and 6 males per team. Teams max at 20 players, exceptions can be made. Each team player is charged the same Team Player Rate of $80 per person.
If you want to play but aren't able to put a team together you can still sign up and we'll place you on a team. Individual league fee is $90.
If you want to sign up with a friend you can, simply sign up as a free agent, and include their name(s) in the "teammate request" field.