Wed Social Co-Ed Kickball - Santa Monica - Fall 2017 Kickball · Co-Ed Social
MonTue
Wed
ThuFriSatSun
7:00pm to 10:00pm
10 vs. 10 Coed Kickball
Team Fees

Early Bird

$75.00

per player + $2.50 Processing Fee

Regular

$89.00

per player + $2.50 Processing Fee

Late

$95.00

per player + $2.50 Processing Fee
Free Agent Fees

Early Bird

$79.00

+ $2.50 Processing Fee

Regular

$85.00

+ $2.50 Processing Fee

Late

$95.00

+ $2.50 Processing Fee
Where: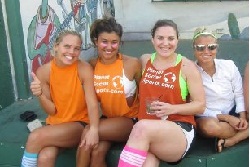 Stoner Recreation Center
Format: Games are 10 vs. 10. You must have at least 5 males and 3 females on the field at once. Games are 50 minutes or 7 innings. No inning will start after the 50 minute mark.

There are usually 2 sets of filelds going for this league. Games start at noon
For a full set of rules click HERE

How and how much?
Each team will need at least 18 players with a minimum of 8 females and 6 males per team. Teams max at 25 players, exceptions can be made. Each team player is charged the same Team Player Rate of $65 per person.

If your group doesn't have enough for a full team, each player that signs up on our team will be responsible for the $65 and that your group will merge us with another team in order for you to get the total required amount of players
If you want to play but aren't able to put a team together you can still sign up and we'll place you on a team. Individual league fee is $75.
If you want to sign up with a friend you can, simply sign up as a free agent, and include their name(s) in the "teammate request" field.